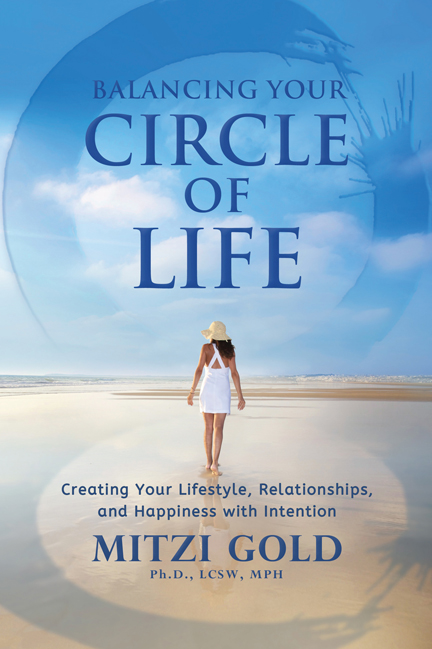 Balancing Your Circle of Life: Creating Your Lifestyle, Relationships, and Happiness with Intention.
Dr. Mitzi Gold has created a powerful process called "Balancing Your Circle of Life," which has helped thousands of patients to resolve lifelong issues, let go of patterns that block success, and make the changes they desire to find joy in their lives and relationships.
Specifically, the Balancing Your Circle of Life process shows you how to:
Find balance and let go of what doesn't serve you.
Use your imagination and intention to create your dreams.
Create a realistic game plan to achieve all of your goals.
Make the right small steps that lead to big changes.
The process of completing Your Circle of Life will give you the information to make the decisions and choices that are right for you.
Download FREE Circle to Balance Your Circle of Life.
Testimonials for Balancing Your Circle of Life
Book Testimonials
"I think your book is an amazing tool for improving your life. I found myself nodding in agreement at the common sense—and uncommon insights into the journey of life. Thank you for writing such a practical and helpful book."
Maureen H. – Canada
"My whole life, I have only thought of goals as linear, like from A to B, and your book opened me up to a new way of thinking of goals as dynamic, interconnected circles that impact all areas simultaneously. I am so glad you opened my mind to this aspect of designing your life."
Dennis R. – Hawaii
"For years, I have wanted to feel whole and complete. When I look at my life through your Circle of Life book, I feel the connection between all parts of myself, and I feel empowered to make my life successful for the first time."
Nanette D. – Rhode Island
"Dr. Gold, you have written such a sweet book. I feel supported by the wisdom. I loved the short stories of people who have changed their lives. I feel encouraged like I can do this also. You show the way in such clear and simple terms."
Jessie W. – New York
"I just read your Circle of Life book, and I loved it! I am using the daily action steps to make so many little changes that I feel like a different person. I am excited about what the future holds for me."
Alika P. – Maui
"I have spent many years in therapy, but this book helped me put it together and see how I can change! You gave me powerful tools that I can use every day to become the person I want to be."
Roger L. – Spain
"The Circle of Life book really helps you understand what is truly important, and to let go of what is just the grind of life. This book reminded me of what makes me happy, and I feel like I have more balance in my life because of these exercises."
Leilani W. – Honolulu
"I just want to thank you for your book, The Circle of Life. It is so positive and refreshing. But most importantly, it helps you get started to see where and how to change your life. I particularly liked seeing how I need to value my friendships and spend more time with people I enjoy. This book is like a map to everything you want in life."
Malia M. – Honolulu
"I don't usually read self-help books, but my wife brought it home, and I picked it up by accident, but I totally got into it. It gave me so much perspective and helped me see where I was stuck. It got me moving, and I feel like I am in charge of life now."
Ben G – Hawaii
"The Circle of Life process helped me to put my life in perspective. I was really struggling with some choices I had made, and doing this process allowed me to move forward and stop obsessing about the past."
Lizzie B. – Honolulu
"What really helped me about the Circle of Life was setting small goals that I could achieve. Seeing small changes gave me the energy and courage to make a huge change that I never thought I had the strength to do."
Malia T. – Honolulu
"My husband and I completed our couples circle, using The Circle of Life Process. It helped us to see how we could coordinate our schedules and share more of the tasks we agree on. I am amazed that we actually feel like we have more time for each other, and even some 'me time' which neither of us allowed ourselves before."
Marcie J – Hawaii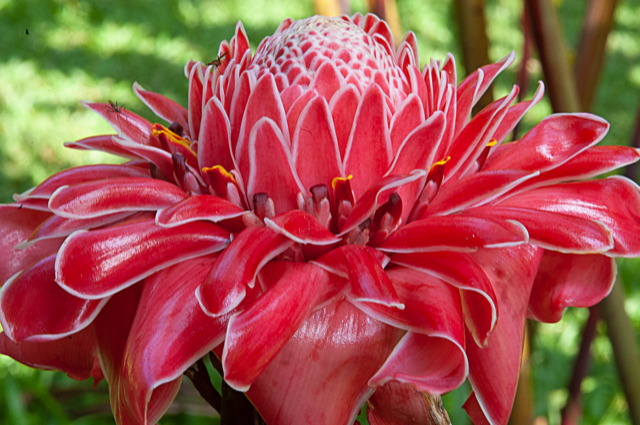 Testimonials for MARS and VENUS Workshops
"When we first came Mars and Venus Counseling Center to take a workshop, we were fighting every day. Now when we have a disagreement, we handle it. It doesn't turn into a big fight that lasts for hours or days. We've learned how important good communication is, and we work at it. We feel confident that if something comes up, we know what to do to work it through."
Lorissa T. – Kauai
"My wife and I were not having sex when we took the workshop at the Mars and Venus Center. I learned that our problems began before we got to the bedroom. I realized that intimacy is about communication. I learned how to express my feelings and to listen when my wife spoke about hers. It was amazing how simple it is, once someone shows you how to do it. We are closer now than ever."
David O – Hawaii
"Before the workshop I didn't even realize what foreplay was. Now I have learned some techniques to get my wife in the mood and to keep the fires burning. I never really understood what women needed. But what I learned has changed everything. I feel like I understand my wife now, and she wants to please me. Now we want to make love."
Mark C – Guam
"Dr. Gray is so right on. The videos we watched at the Mars and Venus Counseling Center helped us to understand that what was going on in our marriage is normal. Dr. Gray explains that men and women are different, and they have their ways of expressing themselves. I understand now what my wife was trying to say. It all makes sense now. She and I are finally on the same page."
Greg F. – Honolulu
"Dating was always confusing and frustrating. I couldn't handle the whole online thing anymore. Dr. Gold helped me to understand what I needed in a relationship and why what I was doing wasn't working. She helped me see that I needed to be clear about my own needs and boundaries and not try to give everything away at the beginning. I've met someone special, and I am going to follow the steps and take my time. I recommend the Mars and Venus on a Date workshop and his book on dating is one of the best books I've read. I feel hopeful for the first time in years.
Marielle R. – Hawaii
"When I read "What You Feel You Can Heal" I didn't even realize I was such a people pleaser and that this was ruining my life. Now I understand what I need to do to take care of myself and be a strong person. I believe that the healthier I am will lead me to have better relationships. I needed to clean up my own house, so to speak, to be ready for a healthy partnership."
Augusta J. – Oregon
"I took the Mars & Venus communication workshop because I had a lot of conflict and rage and I was feeling out of control. I felt like I had no direction, and couldn't stand it when others tried to control me. I didn't realize I was dragging stuff from my past into all my present relationships. I've begun the healing process, and now I don't bring all that stuff to everyday interactions. I just didn't know how to let it go. But I have. I am free."
Steven G. – Hawaii
"Dr. Gold, you've helped my husband and me through a very dark time. I didn't think we were going to make it. Thank you for your wisdom and guidance. You were the light at the end of our tunnel. I believe we are going to make it now—but this time with more honesty and closeness." Dr. Gray's books and videos were so helpful!"
Paula Y – Hawaii
"We enjoyed the training we got at the Mars & Venus Center. Our marriage would not have survived his affair. Your insights into what was truly wrong and missing in our lives helped me to get over my anger and feelings of betrayal. I realized I was the one who left five years ago. You helped us realize that we really did love each other and showed us how we could begin to rebuild trust."
Marcie & Joel – Maui
"Dr. Gold's couple's communication workshop showed us how the way we were talking to each other wasn't working. We got to practice the new skills we were learning in the workshop with other people, and it really made a difference to get the feedback from Dr. Gold. I feel like we can handle the day-to-day issues that come up now, thank you, Dr. Gold."
Francis & Dave – Kauai
"Thank you, Dr. Gold, for changing our lives and being our greatest support. I have learned so much from the training. You have helped me to turn my relationship with my daughter around. Now we are each other's cheerleaders. I am so grateful. Nothing was more important to me."
Stacy A. – Honolulu
"The Mars and Venus coaching helped me get my life back on track. I had been spinning in all the wrong ways. I didn't know where to start. I just didn't know how to change. She gave me guidance, didn't tell me what to do, but gave me better ways of viewing my life. I feel ready to take charge of my life for the first time."
Peter F – Hawaii
"Thank you for your gentle coaching. You helped us see how we could have a relationship based on respect for each other, instead of blame. I didn't know if we could repair all the million tiny paper cuts in our hearts. But you showed us a better way. I just wish we had met you ten years ago."
Stacy V – Hawaii
"You helped me to see that I am worthy of being loved by my husband. We will forever feel grateful for helping me to let go of my past pain. Just coming to the workshops made us feel hopeful and peaceful, and reminded me that I can breathe."
Jessica D – Honolulu
"My husband and I just came back from our honeymoon—which wouldn't have happened if it wasn't for you. You really helped us both to learn how to manage our emotions and not let issues ruin our joy. We recommend the workshops and coaching."
Steven R. – Honolulu